1991 Citroen BX 14
1991 Citroen BX 14
$4,300
Looking at this Citroen BX forces me to contemplate all of the purchasing decisions I've ever made. I'll admit, I buy Leinenkugal's beer instead of Budweiser. I could say it tastes better, but really it's just beer. Except it isn't, because Leinie's is different. Is a four-door hatchback that sold over 2 million examples the same as a small label brewery? No. Except that it is, because in the States you'll never run into another.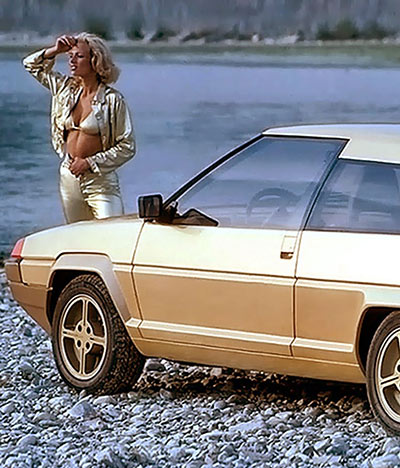 The design of the Citroen BX was Marcello Gandini of Bertone's sloppy seconds scooped up by Citroen and turned into a sales phenomenon. One of the concepts the BX was based on was Gandini's awesome Volvo Tundra. While I wish the Tundra would have made it into production, the BX has all the character you could expect from a late 70's Italian design with a splash of Citroen lunacy.
While there were performance and rally versions of the BX, this particular example features an underpowered 1.4L engine that will allow you to ponder the meaning of "Que Sera Sera" as you attempt to reach highway speeds. Your pace will maximize the time people can see you through the BX's giant windows and that is a good thing because the car looks fantastic.
This BX also comes equipped with 5 SPEEDS so you'll be able to push the little baguette to the limit whenever you want to impress your friends with lots of engine racket. After pushing the Citroen to said limit, it will likely break and you'll have to spend the next month waiting for parts you bought off the internet, but at least you'll feel good about it because you didn't buy Budweiser.
Pros
Not Budweiser
Bertone styling
Interior looks very nice
5 SPEEDS
Not-so Pros
Not Budweiser so parts will be hard to come by
Engine has less power than the Budweiser Clydesdales
Vehicle does NOT have an existing warranty
1991 CITROENcondition: excellent
cylinders: 4 cylinders
drive: fwd
fuel: gas
odometer: 11260
paint color: red
size: full-size
title status: clean
transmission: manual
type: hatchback
If you are interested in this vehicle, please visit the original advertisement. Depending on the age or status of the vehicle, the original advertisement may not be available. The information on this page is provided for reference only and not to serve as a replacement for the original poster's advertisement
Related Articles